Description
Elica-M cream is formulated to treat skin infections caused by Candida spp. or dermatophytes. It contains two active ingredients — mometasone furoate and miconazole nitrate — that work in harmony to alleviate inflammation and itching associated with these infections. The topical cream base provides effective treatment for both the symptoms and underlying causes of the infection when applied as directed.
Key Ingredients
Comprising of mometasone furoate 0.1% and miconazole nitrate 2%, Elica-M cream comes in a cream base.
Benefits
Targeting skin infections caused by Candida spp. or dermatophytes, especially when accompanied by itching and inflammation, Elica-M cream blends the medium potency mometasone furoate and antifungal miconazole nitrate.
How to Use Elica-M Cream
Apply Elica-M cream thinly to affected skin areas once or twice a day.
FAQ about Elica-M Cream
Where can I use Elica-M cream?
It is commonly used for treating skin with wet and oozing symptoms where the affected area is moist and producing an excessive amount of fluid or discharge. These symptoms can occur with various skin conditions, such as infections, irritations, or inflammatory conditions. You can use it for delicate areas with thin skin, like the face and body creases.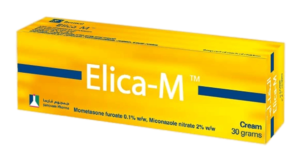 Is Elica-M cream antifungal?
Yes. Mometasone is a synthetic corticosteroid, which exhibits anti-inflammatory, anti-pruritic and anti-allergic actions and Miconazole nitrate is an antifungal agent with broad-spectrum activity against pathogenic fungi, including yeasts and dermatophytes.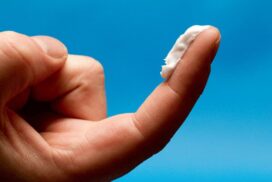 Can you put Elica-M on face?
Yes. It is intended for use on thin skin areas, like the face.

Elica-M Side Effects
Rare local side effects reported with Mometasone furoate 0.1% are burning, itching, stinging, and thinning of skin.
Precautions
Because systemic absorption of topical corticosteroids can increase with excessive application, it's important to take precautions, especially when long-term use is planned or in the case of infants and children.
Therefore, use of topical corticosteroids in children should be kept to a minimum for effective treatment.
So far, the safety of using Mometasone furoate 0.1% in pregnancy has not been established. Hence, its use during pregnancy should only be considered if the potential benefits outweigh the potential risks to the fetus.
If it's unknown whether topical administration of corticosteroids will result in detectable quantities in breast milk, the mother must weigh the importance of the drug before deciding to discontinue nursing or the drug itself.
Any irritation or sensitivity that develops during use of Elica-M should prompt immediate discontinuation.
Furthermore, excessive or prolonged use of topical corticosteroids can suppress the HPA axis and result in secondary adrenal insufficiency.