Hydroquinone has become viral nowadays for its effectiveness to treat several skin conditions. We will shed the light in this article on valuable information about Hydroquinone and particularly 2% Hydroquinone cream. The information in this article is based on the expert commentary of Dr. Purvisha Patel, Visha Skincare founder. The expert commentary was featured in Beauty Insider post "Dermatologists Share the Right Way to Use Hydroquinone for Best Results". Let's start.
Many women use skin lightening creams to treat pigmentation, freckles, acne marks and other dark spots. The most potent ingredient for bleaching skin is Hydroquinone. That's why, more often than not, Hydroquinone is the key ingredient in these creams. Hydroquinone is a strong agent; taking in the right concentration will have wonderful results in bleaching skin. While taking in high concentration might have adverse reaction. So, what is the safe concentration? To answer this question, let's first highlight some points about Hydroquinone.
What is Hydroquinone?
Hydroquinone is a topical skin treatment for melasma, freckles, age and sun spots, and even acne scars. Used in combination with other acne products such as Tretinoin, Hydroquinone can help dramatically improve skin complexion.

– David Shafer, cosmetic and plastic surgeon.
Don't miss: Hydroquinone + Tretinoin + Mometasone Furoate SkinLite Cream
Hydroquinone works by suppressing the work of melanocytes which produces melanin. Melanin is the pigment that gives our skin and hair their colors.  Sometimes, our skin produces more melanin in some circumstances such as in the time of exposure to sun, inflammation, aging and hormonal changes. As said, Hydroquinone slows down the melanin production preventing new spots from forming and fading existing ones.
However, it can take several weeks for you to see the results.
Hydroquinone creams work at the cellular level to reduce the production of pigment. So you need to allow the skin to shed old cells and produce new ones.

– Shafer explains.
So, Hydroquinone helps your skin shed old skin cells to produce new cells.
Who Should Use Hydroquinone Cream?
If you only have occasional or very light marks left by breakouts, you can just use a mild brightening wash and dark spot treatments, and a high SPF sunscreen. Use Hydroquinone for more stubborn blemishes: marks that haven't faded after several months, recurring or persistent pigmentation.

– Sharon Garcia, dermatologist.
Dermatologists use Hydroquinone to treat melasma. Melasma is a skin condition in which dark patches appear on the face. In general, it is triggered by sun exposure, hormonal changes and for genetic reasons.
Hydroquinone is considered the topical gold standard in dermatology for reducing hyperpigmentation.

– Ee Ting Ng, cosmetic chemist.
Hydroquinone is also effective in evening out skin tone. It promotes fairer, brighter and blemish-free skin.
Is 2% Hydroquinone Safe?
In 1982, the US FDA cleared Hydroquinone as safe for the treatment of hyperpigmentation. Nevertheless, after some years, some Hydroquinone products were pulled out of the market because mercury was found in the products. This resulted in exaggerated  reports that Hydroquinone is dangerous which is wrong information.
Here is Dr. Purvisha Patel 's feedback on Hydroquinone.
There's also a phenomenon called ochronotic, or increased pigmentation/darkening of the skin that is caused by Hydroquinone in high concentrations and with long-term use," she explains. "It is safe to use in 2% to 4% formulations twice a day for 12 weeks max. Then, skin needs a break from the chemical.
From our experience with our roster of customers who use Skinlite Hydroquinone + Tretinoin + Mometasone Furoate Cream and Melacare Hydroquinone + Tretinoin + Mometasone Furoate Cream, these creams are safe and very effective on hyperpigmentation treatment and whitening. Particularly if they are used properly. In a nutshell, don't use them for prolonged period of time. In addition, always wear sunblock while you are under the treatment.
Also read: How to Use SkinLite Cream Without Side Effects
Types of Hydroquinone Creams
Over the counter creams

You can find Hydroquinone creams with concentration of 2% over the counter. These creams normally combine Hydroquinone with other lightening ingredients such Tretinoin (synthetic version of Vitamin A). Avoid other exfoliators or facial brushes while using Hydroquinone creams until you are sure that you are not sensitive to the ingredient. Also, avoid other products that contain acids such as AHAs/BHAs or Vitamin C. Dermatologists also suggest to use sunscreen in the morning and the Hydroquinone cream at night to avoid any sensitivity to sun.

Prescription Hydroquinone Creams

Stronger Hydroquinone creams with higher concentration than 2% require prescription. You would risk irritating your skin if you use creams with high Hydroquinone concentration.
Over The Counter Hydroquinone Creams
1- SkinLite 2% Hydroquinone + 0.025% Tretinoin + 0.1% Mometasone Furoate Cream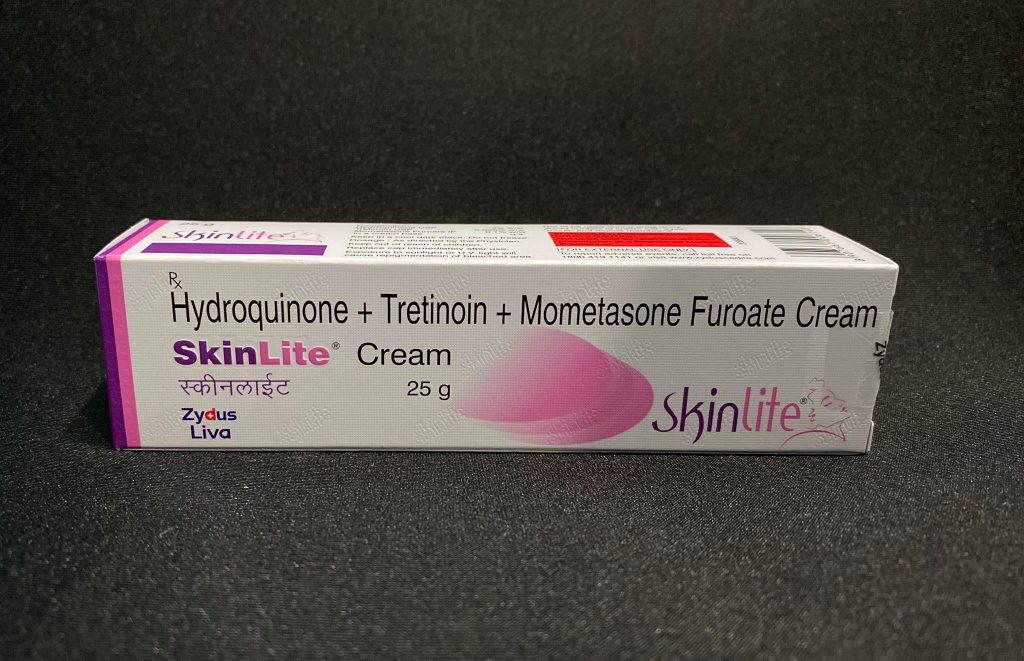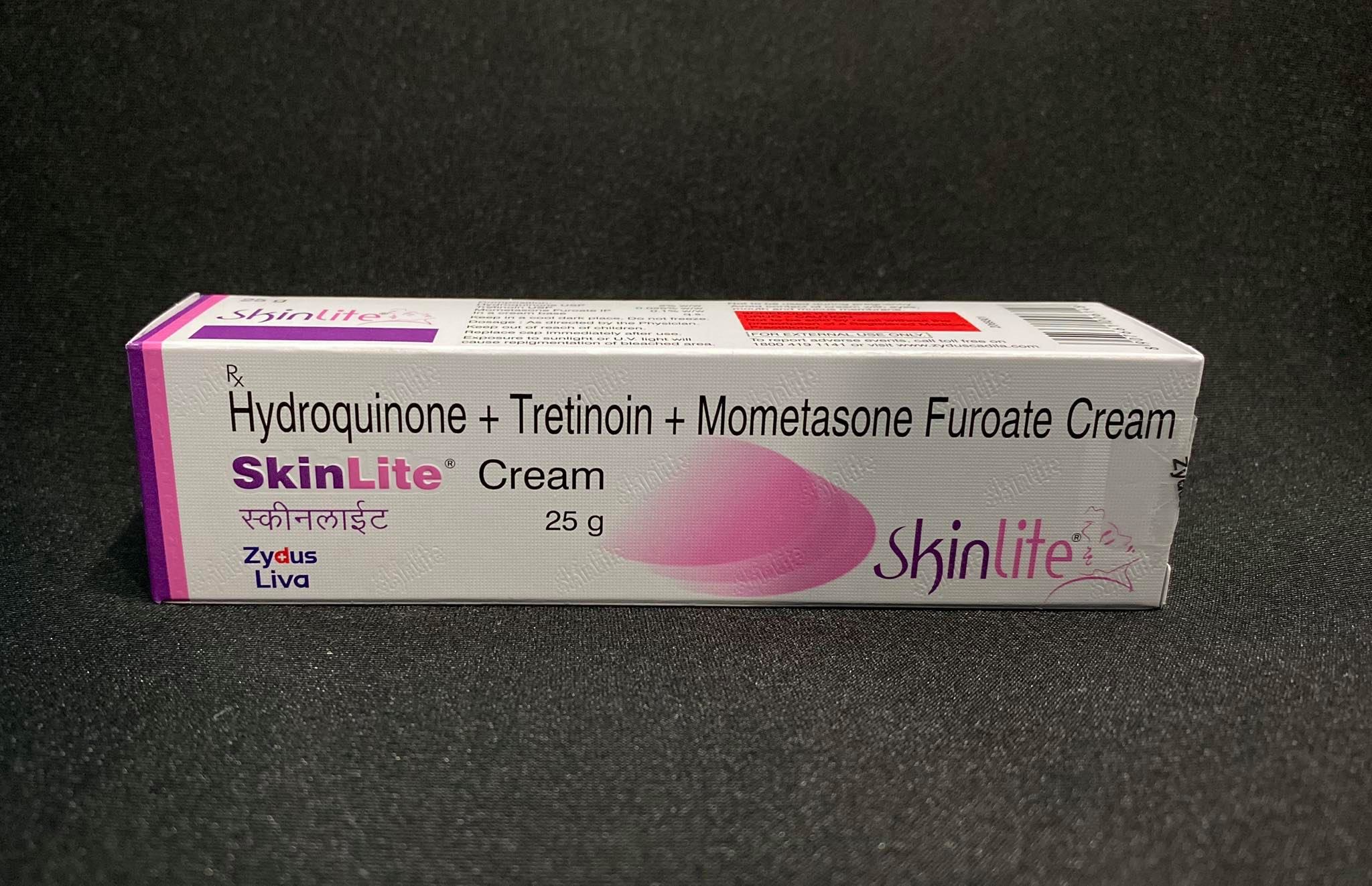 This made in India cream targets, treats and prevents pigmentation and damaged skin. The potent cream combines the goodness of Hydroquinone and Tretinoin. The combination helps lessen the appearance of dark spots. As a result, the skin will have a more even and unified look.
Why we love it:
Contains 2% Hydroquinone
Prevents hyperpigmentation
Price: $13.13
---
2- MelaCare 2% Hydroquinone + 0.025% Tretinoin + 0.1% Mometasone Furoate Cream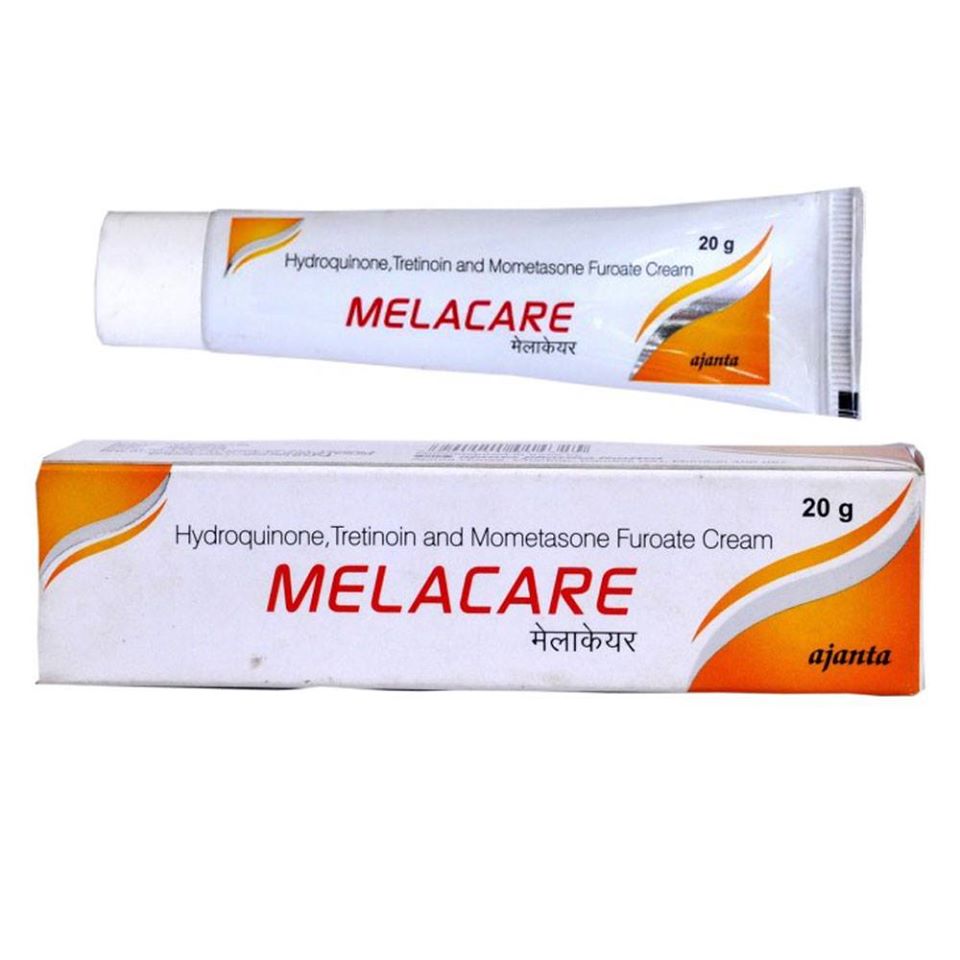 MelaCare cream is almost the same as SkinLite cream but produced by a different company. It is also made in India and delivers the same benefits to the skin. As per our experience with our customers, some of them prefer SkinLite cream as it suits their skin and others prefer Melacare cream.
Why we love it:
Contains 2% Hydroquinone
Prevents hyperpigmentation
Price: $11.49
Conclusion
Hydroquinone cream with relatively low concentration (2%) is safe and effective for mild and some severe skin conditions. Our best seller product is SkinLite cream which contains 0.2% Hydroquinone and 0.025% Tretinoin.
If you have a comment, share below with us.