Description
GMEELAN's Gluta Whitening Lazy Cream offers whitening, oil control, concealing, and moisturizing benefits. It uses NET nano-emulsion hydration technology for quick absorption and brightening results in 7 days. The cream contains Mirowood, a plant from South Africa with remarkable self-recovery capabilities.
Key Ingredients
This product has five powerful whitening ingredients, including Korean licorice extract, glutathione, nicotinamide, vitamin C, and pearl powder, which work together to whiten skin in just 7 days.
It also has African milo wood extract and Korean ceramide NP for deep moisturizing and improved skin elasticity.
The product is scented with grapefruit and spicy mint leaf extracts for a fresh and soft feel, while also providing antibacterial and anti-inflammatory benefits.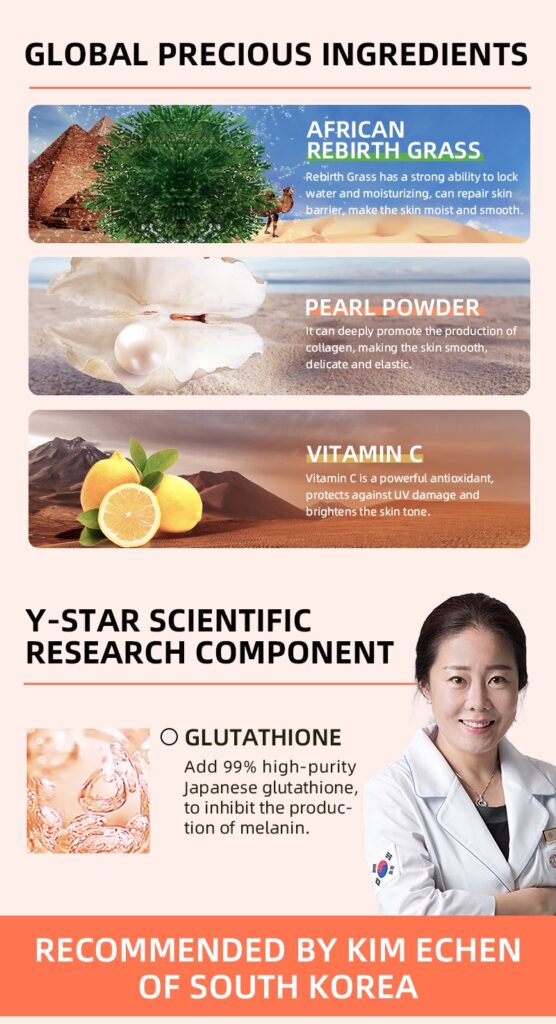 Gluta Whitening Lazy Cream Benefits
With just a 10-second application, this product can help you achieve a natural-looking makeup finish that lasts for up to 8 hours.
The product's whitening effects are immediate and natural-looking, taking only 3 seconds to achieve.
With continued use for 7 days, this product can provide fast whitening effects and help fade dark spots and blemishes, resulting in a brighter, more even skin tone.
In addition to its whitening benefits, the product can also conceal acne marks and minimize the appearance of pores, leaving your skin looking smooth and flawless. Plus, with SPF20 and PA++ sun protection, it helps prevent skin darkening caused by harmful UV radiation.
Common Scenarios of Gluta Whitening Lazy Cream Use
When you're running late for a date or a meeting and don't have time to do a full makeup routine, this product can help you achieve a natural and polished look in no time.
If you've experienced the frustration of using makeup products that give you an artificial and powdery finish, this product can help you achieve a more natural and effortless look.
For daily use, this product can help control oil and keep your skin looking fresh throughout the day, preventing your face from turning into an oily and reflective surface.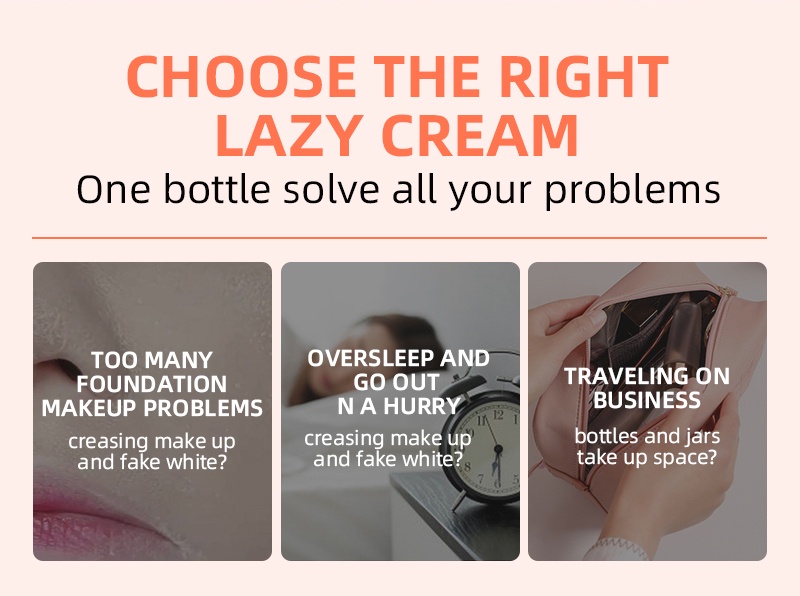 Features
This product is free of alcohol, making it gentle and non-drying on the skin.
It is also paraben-free, avoiding the use of harsh preservatives that can irritate the skin.
The formula does not contain mineral oil, a common ingredient that can clog pores and contribute to breakouts.
You don't have to worry about this product staining your clothes or sheets.
Additionally, this product is vegetarian-friendly, making it suitable for those who prefer to use products that do not contain animal-derived ingredients.
How to Use Gluta Whitening Lazy Cream
Time needed: 20 minutes
A simple yet effective skincare routine can help you achieve a healthy, radiant complexion. Here's a step-by-step guide that takes about 20-30 minutes to complete:
Foundations

Once you have finished cleansing your skin, it is crucial to initiate a basic skincare routine to maintain healthy and radiant skin.


Apply Gluta Whitening Lazy Cream

Dispense a suitable quantity of the product and apply it uniformly over your face.


Effortless Glow

Softly blend the product with either your hands or a makeup puff, allow a few seconds for it to settle, and let your complexion naturally glow with a brightened look.

Frequently Asked Questions
Will it be able to hide blemishes and imperfections on the face?
This cream offers a variety of benefits, including concealing, whitening, oil control, and moisturizing. You can achieve a bright and natural-looking finish in just 10 seconds, making it easy to create a flawless, milk-like complexion.
What is the estimated time it takes to achieve skin whitening?
The duration for visible effects varies from person to person. For best results, we recommend consistent use for 28 days to restore a smoother, softer, and brighter complexion.

Can the product effectively whiten naturally dark or tanned skin?
Our formula incorporates NET nano-emulsion and hydration technology, featuring active molecules that penetrate the skin rapidly within 3 seconds. The 5X whitening ingredients reach the bottom of the skin, resulting in fast whitening in 7 days.
Is the product likely to stain clothes?
The cream has a lightweight and easily absorbable texture that does not leave any stains on clothes.