Description
Presenting BIOAQUA Collagen Firming Sleeping Mask, a 20-piece set of 4ml packets that will help nourish and rejuvenate your skin while you sleep. Infused with highly absorbable collagen, this mask accelerates skin metabolism to slow down the aging process and promote firmer, smoother-looking skin. Get ready to experience the benefits of reduced wrinkles and a more youthful glow with BIOAQUA Collagen Firming Sleeping Mask.
Key Ingredients
| Ingredients | Effects |
| --- | --- |
| Collagen | Promotes skin elasticity and reduces the appearance of wrinkles |
| Hydrolyzed silk | Softens and smooths the skin surface |
| Niacinamide | Helps brighten skin and even out skin tone |
| Retinol | Improves skin texture and reduces the appearance of fine lines |
| Vitamin C | Antioxidant properties that brighten and even out skin tone |
| Gold foil | Anti-aging properties that help firm and tone the skin |
BIOAQUA Collagen Firming Sleeping Mask Key Ingredients
Benefits
Provides deep moisture and nourishment to the skin
Lifts and firms the skin for a more youthful appearance
Contains skin-friendly retinol to reduce fine lines
Brightens the skin and fades spots with highly active small molecule Vitamin C
Acts as an anti-aging and anti-wrinkle treatment with active 99.9% gold foil and collagen, which resist skin senility and compact the skin.
Features
20 individual packets of 4ml each for convenient use
Contains easily absorbable collagen for faster results
Infused with skin-friendly retinol and small molecule Vitamin C for effective skin rejuvenation
Includes active 99.9% gold foil for its anti-aging properties
Skin-friendly formula suitable for all skin types.
How to Use Collagen Firming Sleeping Mask
Time needed: 25 minutes
The total time for the steps is approximately 20-25 minutes, which includes the time to clean your face, apply the mask, and let it sit for 15-20 minutes. There is no need to wash your face again after removing the mask, so the entire process can be completed in under half an hour. Follow the steps below for best results:
Clean Your Face

Before applying the mask, make sure your face is clean and free of makeup and dirt. Gently wash your face with a cleanser to remove any impurities.


Apply the Mask

Remove the gel from the package and apply it evenly to your face. Massage it in gently until it's fully absorbed.



Relax and Let It Sit

After applying the mask, take some time to relax and let it sit for 15-20 minutes. During this time, the mask will work its magic to firm and brighten your skin.


No Need to Rinse

After the 15-20 minutes have passed, you don't need to wash your face again. Simply massage any remaining gel into your skin and let it continue to work its magic while you sleep.

Frequently Asked Questions
Is this mask suitable for all skin types?
Yes, this mask is suitable for all skin types. Its skin-friendly formula is designed to nourish and rejuvenate the skin without causing irritation or adverse reactions.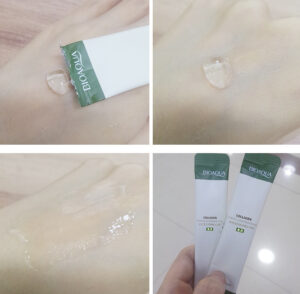 How often should I use this mask?
For best results, it is recommended to use this mask 2-3 times per week. However, you can adjust the frequency to meet your individual needs and preferences.


Can I use this mask during the daytime?
This mask is designed to be used as a sleeping mask, which means it is most effective when left on overnight. However, if you prefer to use it during the daytime, you can apply a thin layer and leave it on for 15-20 minutes before rinsing off.