Description
Elevate your beauty routine with the enchanting Fairy Skin Premium Tinted Sunscreen. Crafted with precision and care, this sunscreen offers impeccable protection against harmful UV rays while bestowing your skin with a flawless, tinted coverage that enhances your natural allure.
Key Ingredients and Effects
| Key Ingredients | Effects |
| --- | --- |
| Pure Vitamin E | Nourishes and moisturizes, leaving skin rejuvenated. |
| Trimethylsiloxysilicate | Creates a smooth finish, minimizing pores and lines. |
Key Ingredients and Effects of Premium Tinted Sunscreen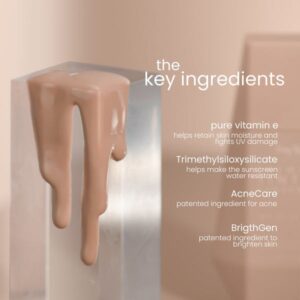 Benefits
Robust Sun Protection: Safeguard your skin from UVA and UVB rays, counteracting aging and sun-related damage.
Medium Coverage: Embrace a lightweight, natural-looking tint that harmonizes with your skin tone.
Deep Nourishment: Enriched with pure vitamin E, our sunscreen hydrates and revitalizes your skin.
Skin Enhancement: Harnessing Trimethylsiloxysilicate, Acnecare, and Brightgen, the sunscreen refines skin texture and diminishes imperfections.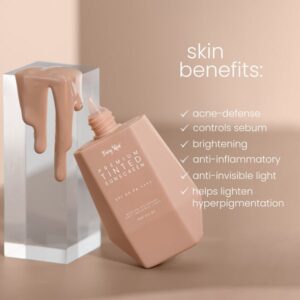 Features
Luxurious Textures: Our formula seamlessly fuses creamy and watery textures for a delightful application experience.
Fragrance-Free: Suitable for sensitive skin, the sunscreen is free from overpowering scents.
Dual Finish: Experience matte shine control and subtle luminosity for a balanced radiance.
SPF50 PA++++ Protection: Our Fairy Skin Premium Tinted Sunscreen offers powerful protection with SPF50 PA++++, guarding your skin against UVA and UVB rays while preventing premature aging and sun damage.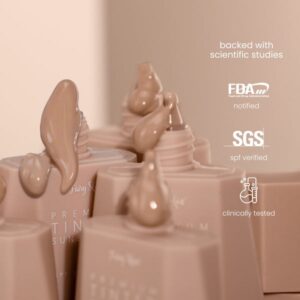 How to Use Fairy Skin Premium Tinted Sunscreen
Time needed: 10 minutes
Follow the steps below:
Prepare

Begin with cleansed and moisturized skin.

Apply

Dot the tinted sunscreen across your face. Gently blend using your fingertips or a makeup sponge.

Finish

Enjoy a luminous yet matte finish that lasts all day.
Frequently Asked Questions
Can I wear makeup over this sunscreen?
Absolutely! The tinted formula provides an excellent base for makeup.
Is this suitable for sensitive skin?
Yes, our fragrance-free formula is gentle on sensitive skin.
Does the tint suit different skin tones?
Yes, the tint seamlessly blends with various skin tones, providing a natural look.
Is reapplication necessary?
Yes, reapply every two hours for optimal sun protection.
Does it leave a greasy residue?
No, our sunscreen offers a matte finish without greasiness.