I recently used Skinlite Cream and found it to be highly effective in achieving its intended purpose as a skin lightening agent. Before I start my review about SkinLite Cream, I'd like to thank rejuvenatingsets.com for letting me share my thoughts and experience with the SkinLite Cream on their blog.
Composition
The product contains key ingredients such as Hydroquinone, Tretinoin, and Mometasone, each with unique properties to brighten and soothe the skin.
Hydroquinone, with a concentration of 2%, works by inhibiting tyrosinase, the enzyme responsible for producing melanin, which contributes to skin pigmentation and melasma. Tretinoin, with a concentration of 0.025%, is a metabolite of Vitamin A that helps eliminate melanin and has anti-inflammatory properties. It also promotes the growth of new skin cells, leading to a brighter and healthier appearance. Lastly, Mometasone, with a concentration of 0.1%, is a corticosteroid that reduces inflammation and soothes the skin.
How to Use SkinLite Cream
When using Skinlite Cream, it's important to apply it thinly and massage it thoroughly into the skin. It's best to use it once at night or as prescribed by a dermatologist to avoid prolonged use and potential side effects such as skin thinning and irritation. Furthermore, it's essential to avoid sun exposure and to use a broad-spectrum sunscreen to prevent skin damage from radiation. Finally, it's recommended to cover the areas where Skinlite Cream is applied when outdoors.
Ease of Use
When it comes to ease of use, Skinlite Cream is very straightforward and user-friendly. The cream has a smooth texture and spreads evenly on the skin, making it easy to apply. The product comes in a compact and convenient tube, making it easy to store and carry. To use, simply apply a thin layer of the cream and massage it thoroughly into the skin until it is fully absorbed. However, it is important to note that Skinlite Cream should be used for a period of one month, followed by a rest period, before being used again. Additionally, it is crucial to use a broad-spectrum sunscreen while using Skinlite Cream. Alsoeven after you have completed the treatment. This will help prevent sun damage and protect the skin from the harmful effects of UV rays.
Feel and Look
In terms of feel and look, Skinlite Cream has a light and non-greasy formula that feels comfortable on the skin. It does not leave any residue or sticky feeling, which makes it perfect for everyday use. The product absorbs quickly into the skin, leaving it feeling soft and refreshed.
Price
One of the best things about Skinlite Cream is its reasonable price compared to the numerous benefits it provides. Given its key ingredients and the positive results it delivers, the product is priced very competitively. It is an excellent value for money.
Effects
Using Skinlite Cream has dramatically improved my skin's appearance, giving it a brighter, clearer, and smoother look. The product has effectively reduced the appearance of dark spots, such as freckles and age spots. In addition, it has evened out my skin tone. I was pleasantly surprised by how fast I started to see the results. It has continued to improve with regular use.
Conclusion
In conclusion, I'm glad to have the oppertunity to share my review about Skinlite Cream here. To wrap up, this cream is a highly effective and easy-to-use product for lightening the skin and reducing dark spots. Its smooth texture, light and non-greasy formula, and affordable price make it a great choice for anyone looking to improve their skin's appearance. The product has exceeded my expectations in terms of the results it has delivered. I would highly recommend it to anyone looking for a solution to improve their skin's health and appearance. Just remember to follow the precautions and use it as directed for best results.
SkinLite Cream Review Summary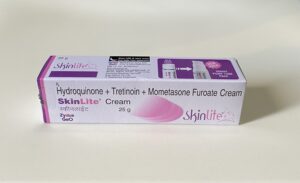 Skinlite Cream is a product that lightens skin tone and eliminates dark spots such as freckles and age spots.
Effects
Brightens skin tone and reduces dark spots.
Ease of Use
Easy to apply and recommended use for one month.
Look & Feel
Good texture, but may cause redness.
Price
Good price compared to the ingredients and benefits.
Pros
Effective skin lightening
Cons
Restrictions for pregnancy