If you're a fan of Kris Aquino, then you've definitely heard of this product. You've seen her endorsing it on social media and TV, and even was the brand ambassador up until December 2018. She's basically obsessed with Snail White Whipp Soap. You may have heard some great customer reviews about the product already, either from beauty bloggers, family or friends. Maybe your interest has been piqued because you just love anything with the celebrity stamp of approval. Whatever the case may be, we thought we'd write our own Genuine Snail White Whipp Soap Review so that you can get all the information you need before making a purchase.
Snail White Soap Benefits
The soap is marketed as a facial cleansing product that deeply moisturizes and nourishes for naturally dewy and radiant skin. It also reduces blemishes and appearances of fine lines.
Snail White Whipp Soap is filled with a bunch of natural plant extracts that do wonderful things for your skin. But the ones in the list below are the biggest contributors to the product's effectiveness:
Bearberry Leaf Extract – a natural lightener that reduces melanin production to brighten skin. In addition, a safer alternative to chemical compounds like hydroquinone.
Black Currant Seed Oil – a natural remedy for inflammation, contains the essential fatty acid gamma-linolenic acid.
Sunflower Oil Concentrate – an anti-inflammatory that contains Vitamin E and omega-6 (linoleic) fatty acid. These helps reduce skin redness and roughness and enhances new skin cell development.
Balloon Vine Extract – an herbal treatment for eczema and other skin ailments.
Hyaluronsan HA-LQH – a highly refined hyaluronic acid that hydrates and refreshes for dewy skin. As well as maintains collagen synthesis to fight signs of aging.
Echium Oil – a fatty acid that visibly reduces appearance of fine lines.
Snail Potion/Secretion – a concentrate that evens out skin tone, helps restore firm and healthy skin. Furthermore, it locks in moisture without feeling sticky.
Overview
As you can see, not only does the soap work to brighten, firm up, hydrate, smooth, renew and rejuvenate your skin. It's also formulated to work on even the most sensitive skin types. However, even if a product states that it's suitable for all skin types. You should always do the skin patch test. Then, wait 24 hours to check for any allergic reactions. It is a scented soap, after all.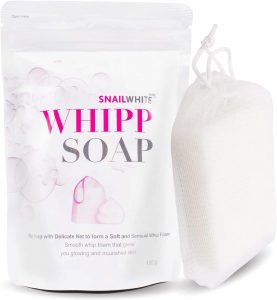 If you'd like to learn more about the product makeup, below is the complete list of ingredients. It is also listed on the Snail White Soap product pages.
Ingredients
WATER, SODIUM PALMITATE, SODIUM MYRISTATE, SODIUM STEARATE, GLYCERIN, SODIUM COCOYL ISETHIONATE, NIACINAMIDE, BUTYLENE GLYCOL, SODIUM LAURATE, PROPYLENE GLYCOL, SORBITOL,TOCOPHEROL, CHOLESTEROL, HYDROGENATED LECITHIN, FRAGRANCE, TITANIUM DIOXIDE, HELIANTHUS ANNUUS SEED OIL, CENTELLA ASIATICA EXTRACT, SODIUM HYALURONATE, PHENOXYETHANOL, ECHIUM PLANTAGINEUM SEED OIL, HELIANTHUS ANNUUS SEED OIL UNSAPONIFIABLES, SNAIL SECRETION FILTRATE, PEG-90M, CHLORPHENESIN, ROSMARINUS OFFICINALIS LEAF EXTRACT, MUSA SAPIENTUM PULP EXTRACT, RIBES NIGRUM SEED OIL, CARDIOSPERMUM HALICACABUM FLOWER/LEAF/VINE EXTRACT, MANGIFERA INDICAPULP EXTRACT, ARBUTIN, MAGNESIUM ASCORBYL PHOSPHATE, SODIUM METABISULFITE, MONASCUS/RICE FERMENT, SACCHAROMYCES/COIX LACRYMA-JOBI MA-YUEN SEED FERMENT FILTRATE, TETRASODIUM EDTA, CAPRYLIC/CAPRIC TRIGLYCERIDE, SODIUM BENZOATE, BENZYL ALCOHOL, ASCORBIC ACID, FRUCTOSE, GLUCOSE, LACTOBACILLUS/SOYBEAN FERMENT EXTRACT, POTASSIUM SORBATE, OCTYLDODECANOL.
Review on How to Use Snail White Whipp Soap
As you can see, Snail White Whipp Soap comes with a delicate Ultra Weave mesh net. It helps create that foamy lather. What's great about the net is that it helps the product last much longer than most soaps. Moreover, it takes away direct contact with the soap. In addition to lessening the chances of skin irritations.
Using the soap is pretty straightforward. All you have to do is wet the soap with water. Then, rub until it lathers. Once you have enough whipped soap, massage it onto your face like you would with any other face wash. Avoid touching your eyes and mouth.
Again, I can't emphasize this enough. Please test the product on a small patch of skin first before applying the soap on your face or the rest of your body. If your skin is extremely sensitive, consult with your dermatologist to see if the soap is safe to use.
There are certain things to keep in mind about the soap. Although it is a facial soap, you can be apply to the rest of your body, but note that you'll go through the bar rather quickly, even though the net prevents you from wasting the product. If it's just used as a facial soap once or twice daily, it can last up to up to 1-2 months.
To ensure you're making the most out of the soap, leave the netted soap hanging in your shower or over your sink. Do not leave it in a soap dish! The water will just collect and end up melting away the soap.
Is Snail White Soap Effective?
Now that's the question we all want to know the answer to. The soap can have the most amazing ingredients in the world, but what matters is how well those ingredients work together. Do they yield results?
Well, testimonials on BeautyMNL say so, and customers on there range from combination skin types to morena complexions, thus it's not just a certain group of people that are experiencing the benefits of the product. Everything from soft luminous skin to eliminate dark spots and pimples to less breakouts, it's been dubbed as one of the best facial soaps that Asian beauty bloggers have ever come across.
Thus, Snail White Whipp Soap seems effective for virtually all skin types.
However, something worth noting is that the product doesn't necessarily lighten your skin. While the bearberry leaf extract inhibits melanin production, the soap is more so of a skin brightener rather than a lightener, so don't expect your skin tone to go a few shades lighter after a few weeks of regular use.
How to Spot Fake Snail White Soap
For every beauty product, there's always a knock-off, fake, copycat, whatever you like to call it. With some products, it's easy to spot the difference just by looking at the packaging or the product itself, but with items like the Snail White Whipp Soap, it's not that hard to mimic. With its growing popularity in the Southeast Asian beauty community, there are definitely some shady operations trying to create a cheap version of the soap. You have to be responsible, and you need to be able to spot the difference between the real thing and the fake stuff before you end up with a severe allergic reaction or a chemical burn.
While you may not be able to tell the differences by just comparing the actual product and copycat side-by-side, Snail White has cleverly come up with an anti-counterfeit system that ensures their customers with the authenticity of their products. Every item comes with a sticker that has a scratchable silver surface. Scratch the silver part of the label, then you can scan the unique QR code. If it's a real product, a message will appear saying, "Thank you for choosing NAMU Life." If you scan it a second time, you will receive an alert that will indicate that your code has been previously scanned.
Finally, if it's a fake product, the message will indicate that you've scanned an invalid QR code.
Final Thoughts
This was Genuine Snail White Whipp Soap Review. Give the product a shot! And please, feel free to share your experience with us in the comments section below.