Do you ever watch those videos of people peeling off their dead skin, shedding like a snake would? They're pretty gross but oddly satisfying. Kind of like those clips from Dr. Pimple Popper, or those blackhead removal masks. And then they end up convincing you to buy all those trending pore cleaning skincare products, or at least spark your curiosity. If you haven't jumped on the bandwagon yet for foot peeling masks, I thought I'd give you a review of latest offering straight from Japan, Butterfly Baby Foot Peeling Mask.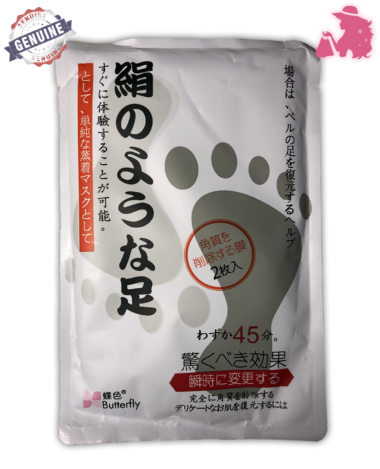 Now, maybe you have tried a couple of foot peeling masks before. So you feel like you know what you're getting yourself into with this one. However the Butterfly Baby Foot Peeling Renewal Mask is slightly different. Many foot masks you've seen online have customers actually peeling off their dead skin. But this one doesn't actually recommend peeling. In fact, gentle exfoliation and hot water vinegar soaking is what is recommended.
That may be strange for some. But hey, not every foot mask works the way you expect them to. Now, onto the Butterfly Japanese foot peel review.
Who Should Not Use the Butterfly Baby Foot Peeling Renewal Mask?
Before we even discuss how this product works, there are certain conditions under which you shouldn't use the Butterfly Foot Mask.
PLEASE DO NOT USE THIS PRODUCT IF YOU:
Have newly peeled feet
Have blisters, cuts or wounds
Are allergic to alcohol
Are under the age of 18
Have extremely dry skin
It's almost a given that you shouldn't be using the Butterfly Foot Mask if you have just finished peeling. Regardless if you've used the same product or used one from a different brand. You've peeled your feet to reveal new skin. Then, using foot peeling product right away will remove the new skin. Additionally, leave your feet vulnerable to bleeding, burning, and other unwanted reactions.
The Butterfly Foot Mask contains alcohol. So, its a given that anyone with allergies or sensitivity to alcohol shouldn't be using the mask. Even if you aren't allergic, the alcohol content is dangerous and will burn on open or cracked skin, inflammation, wounds, blisters, basically any kind of foot ailment, if you've got any. Even if you've got extremely dry skin, foot peeling masks generally aren't recommended for you.
If you're wondering why age is a factor in this product, it's merely because those under 18 years of age are still growing. Moreover, we wouldn't want them to use anything that would compromise their growth and overall health.
If none of the above applies to you, then you should be safe to try out the Butterfly Baby Foot Peeling Renewal Mask. But please do consultant a doctor or a dermatologist if you are unsure if this product is suitable for your skin type.
Butterfly Baby Japan Foot Peeling Mask Directions & Instructions
Now that we've got all the safety issues out of the way, let's talk about how you're supposed to use this product. Firstly, each package contains one foil pack which contain a pair of plastic socks with liquid. So that's one pack for one foot peel use.
The first thing you need to do is thoroughly wash for feet, scrubbing any rough parts if you have any. Although this extra exfoliation step seems like it would defeat the purpose of the masks, those thick bits of skin or calluses might prevent the solution from deeply penetrating your skin, thus still leaving some slightly rough parts on your feet after the process is complete.
Once you're done washing your feet, dry them off, then open up the product package. Open one foil pack and put the plastic socks on. To help keep the masks in place, you can wear regular socks over them. Ideally, you don't want want to be moving around too much in these since the solution will feel really strange on your feet, so it's best to watch a movie as you wait for the liquid to seep in. You can leave the masks up for up to two hours, but the minimum amount of time you should be leaving it on for is 30 minutes. If you have sensitive skin, it's best to leave it on for the minimum time limit, so half an hour.
While your Foot Soaking
During your foot soak, you may feel some warmth or a bit of tingling. Don't be alarmed. Those sensations just mean that the product is working, that your skin is soaking up the solution that starts up the peeling process. If at any time you feel burning, immediately take the masks off.
Once you're done soaking your feet, rinse them off with water, then wait the next few days for the peeling to begin. On average, peeling begins within the first seven days, but it can take up to 15 days before any signs of dead skin removal. You do have the option to use the second set of foot masks after the first week if you'd like to speed up things up.
What to Do After Peeling
When your feet do start peeling, RESIST THE URGE OF PEELING THE SKIN YOURSELF! As tempting as the videos make it, premature peeling can lead to bleeding and leave your skin vulnerable since it hasn't developed enough to act as a protective layer against infections and such. The dead skin will peel off on its own when it's ready. If you want to remove the parts that have already peeled, you can soak your feet at night in water and some vinegar, then gently exfoliate to get those peeled bits off. Make sure not to use any lotion or moisturizer on your feet while they're peeling, since you want your feet dry enough in order for it to actually peel.
When all the peeling is done, voila! You should have feet as soft and supple as those of a baby. And if they aren't as smooth as you were hoping they would be, you can restart the whole procedure in a month, or at least 20 days from when the peeling process is complete to achieve your desired results.
Do the directions seem more complicated than most foot masks out there in the market? Maybe a it, but the results are worth that extra bit of hassle. Just make sure when the peeling does begin that you do wear socks and closed toe shoes to avoid your feet from flaking off dead skin in public!
Final Thoughts
This was the Butterfly Peeling Mask Review. If you have any questions, concerns, or simply want to share your experience with the Butterfly Foot Mask with us, please leave a comment below.